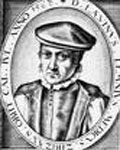 Levin Lemne
Three Strange Stories translated from the Works of a Dutch Physician (1566)

The secret miracles of Nature, and various lessons on different matters, explained with likely reasoning and skilled conjecture in two books by Levin Lemne, physician at Zierikzee, and newly translated into French.
At Lyons, by Jean Frellon, 1566.
Lemne is one of the many authors writing in the mid-16th century who wanted to record and comment on what he saw as the miracles of Nature, and
conception
and birth are among the various subjects which he treats. His primary interest is in the general principles of the natural order, but just as
André Du Laurens
will do, he also discusses some exceptional cases, three of which meet my definition of 'birthing tales'. In the first and third cases cited below, he records the stories of women who were his own patients. The second case concerns a story he must have heard, and which clearly fascinates him.
Trois récits singuliers fournis par un médecin hollandais (1566)

Les secrets miracles de nature, et divers enseignemens de plusieurs choses, par raison probable et artiste conjecture expliquez en deux livres, Par Levin Lemne, medecin de Zirizee ; et nouvellement traduits en François :
A Lyon, par Jean Frellon, M.D.LXVI.
Lemne est un des nombreux auteurs du milieu du XVIe siècle à vouloir recenser et commenter les miracles de la nature, dont – parmi beaucoup d'autres sujets –
la conception
et la naissance. S'il s'intéresse, en premier lieu, aux règles générales, il réserve par ailleurs une place à quelques cas singuliers (tout comme le fera
André Du Laurens
), trois desquels rentrent dans le domaine de notre projet. Dans le premier et le troisième cas que nous citons, il s'agit de femmes qui sont venues le consulter ; dans le deuxième cas, d'une histoire dont il aurait entendu parler et qu'il souhaite approfondir.