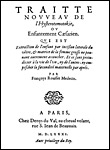 François Rousset
A physician defends the use of caesarean operations on living women (1581)

New treatise entitled Hysterotomotokie, or childbirth by caesarean. That is the extraction of the child by lateral incision of the abdomen and womb of the pregnant woman when she cannot otherwise give birth. And this without threatening the life of either, nor preventing the mother from conceiving again afterwards. By Françoys Rousset physician.
Printed in Paris. By Denys Du Val, at the flying horse, rue S. Jean de Beauvais. . M.D.LXXXI. With royal privilege.
In 1581 François Rousset, the physician to the Duke of Nemours, published a remarkable treatise for the benefit of French surgeons, in which he advocated performing
caesarean sections
on living women if the birth could not proceed otherwise. At this period it was commonplace for the foetus to be extracted by caesarean section if a woman
died in childbirth
, in the hope that it would live long enough at least to be baptised. However, caesareans on living women were held to be too dangerous, and
Ambroise Paré
himself records having come down against the operation after witnessing the death of five patients. But Rousset was not afraid of challenging contemporary opinion, and since his defence of the operation was then translated into Latin by the Swiss physician Caspar Bauhin, appearing in the famous Latin volume on women's medicine, Gynaeciorum …commentarii, it circulated throughout Europe. Rousset sets as much store on first-hand experience as on classical authorities, citing caesareans he had seen himself (as he explains on p. 12 of the treatise), some performed by contemporaries, and others which he had encountered in descriptions by 'both classical and modern' writers.
Un médecin défend l'opération césarienne sur des femmes vivantes (1581)

Traitté nouveau de l'Hysterotomotokie, ou enfantement caesarien. Qui est extraction de l'enfant par incision laterale du ventre, et matrice de la femme grosse ne pouvant autrement accoucher. Et ce sans prejudicier à la vie de l'un, ny de l 'autre ; ny empescher la foecondité maternelle par après. Par Françoys Rousset medecin.
A Paris. .Chez Denys Du Val, au cheval volant, rue S. Jean de Beauvais. . M.D.LXXXI. Avec privilege du Roy.
François Rousset, médecin du duc de Nemours, fit paraître en 1581 un traité singulier, adressé aux chirurgiens français, prônant - en cas d'accouchements fort difficiles - l'emploi de
l'opération césarienne
sur des femmes vivantes. Certes, l'extraction du fœtus du ventre d'une femme qui venait de
mourir en couches
était courante, car médecins et chirurgiens cherchaient avant tout à sauver le fœtus, ne serait-ce que pour le baptiser. Mais la césarienne sur une femme vivante était normalement jugée comme trop périlleuse.
Ambroise Paré
ne dit-il pas y avoir renoncé après avoir vu en mourir cinq patientes ? Or, Rousset ne craint pas de contredire ses confrères, et sa défense de cette opération, qui fut ensuite traduite en latin par Caspar Bauhin (médecin bâlois), parut dans les Gynaeciorum …commentarii , célèbre recueil sur la médecine des femmes qui circula partout en Europe. Notons que Rousset y met l'expérience vécue à côté de l'autorité ancienne, car il cite des opérations césariennes qu'il a vues lui-même, (comme il l'explique à la page 12 du traité) ; d'autres pratiquées par ses contemporains ('de celebres medecins encor' vivants') ; et d'autres encore décrites par des auteurs 'tant anciens que modernes'.