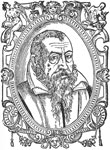 Jacques Daleschamps
Difficult births described by a famous French physician, botanist and translator (1610 re-edition)

Surgery in French, compiled by Jacques Daleschamps, doctor of medicine, and Ordinary Reader in Lyons. Together with a number of illustrations of instruments required for manual interventions. With further annotations on all the chapters and several treatises on surgical operations, introduced and explained by Jean Girault. (revised posthumous edition, 1610) In Paris. Printed by Olivier de Varennes, rue Saint Jacques, at the sign of Victory. MCDX. With Royal Privilege
Printed in Rheims, for N. Baquenois. MDLIII. With Royal Privilege.
In 1569, Jacques Daleschamp, a humanist, physician and botanist, published a French translation of several classical texts on surgery, accompanied by his own annotations. The compilation was republished several times, and in 1610 Jean Girault (who had himself written a short treatise on surgery) added further annotations of his own. Daleschamps' annotations demonstrate that he was interested in obstetrics, but those added by Girault are even more interesting because they provide important information about developments in the profession's involvement in childbirth in Paris at the start of the 17th century
Des naissances difficiles décrites dans les annotations d'un médecin, botaniste et traducteur célèbre (réédition de 1610)

Chirurgie françoise recueillie par M. Jacques Dalechamps, docteur en medecine, et lecteur ordinaire à Lyon. Avec plusieurs figures des instrumens necessaires pour l'operation manuelle. Et depuis augmentée d'autres annotations sur tous les chapitres. Ensemble de quelques traictez des operations de chirurgie, facilitées & esclaircies par M. Jean Girault. A Paris. Chez Olivier de Varennes, ruë S. Jacques, à la Victoire. MCDX. Avec privilege du Roy.(édition augmentée, 1610)
Imprimé à Reims, chez N. Baquenois. MDLIII. Avec privilege du Roy.
Jacques Daleschamp, humaniste, médecin, botaniste, propose dès 1569 une version annotée, en français, de plusieurs textes anciens sur la chirurgie. La compilation est réimprimée plusieurs fois, et en 1610 Jean Girault (auteur lui-même d'un court traité sur la chirurgie) y ajoute de nouvelles annotations. Les écrits sur l'obstétrique ont, certes, intéressé Daleschamps, comme en témoignent ses propres annotations, mais ce sont les celles de Girault qui nous donnent des renseignements précis – et précieux – sur l'évolution des naissances à Paris au début du XVIIe siècle.