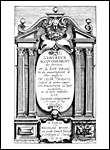 Jacques Guillemeau
The King's Surgeon looks back over a career including normal and exceptional childbirths (1609)

Of the Happy Delivery of Women and Of the Feeding and Care of Children, from the Time of their Birth
Paris. Printed by Nicolas Buon, at the mont Sainct Hilaire at the sign of St. Claude. 1609
Jacques Guillemeau was a pupil of
Ambroise Paré
, and his Works on Surgery, written for young surgeons, were regularly reprinted until the middle of the 17th century. His treatises on obstetrics and paediatrics – which concern us here – were initially published separately (in 1609), and then, in 1620, revised and extended by his son Charles Guillemeau (a surgeon who later qualified as a physician). Jacques Guillemeau is looking back on a career of some forty years, treating rich and poor alike. In most chapters, he starts with general considerations, then cites specific cases either to support or to question commonly held views. He writes with the authority of a surgeon, giving us an interesting insight into his working relationships with physicians, midwives and apothecaries as well as with his peers. For example, we see evidence of a growing trend – among both physicians and patients – to summon particular
surgeons known to be skilled in the art of delivery
, such as Honoré or Guillemeau himself.
I have identified about 30 'birthing tales' in Guillemeau's work – an unusually high number in comparison with other obstetric treatises of the period. The only other similar figure is found in the writings of his contemporary, the midwife
Louise Bourgeois
. Although there may have been some professional rivalry between them, their writings share in common a recognition of the value of experience, and of the distinctive features which differentiate one pregnancy or birth from another. Guillemeau's style tends to be plain and unsensational, as befits a work addressed to younger colleagues, but alongside his serious reflections – for example on correct professional behaviour – there are traces of a quick sense of humour. His own professional approach promotes caution and gentleness towards patients, and as befits a disciple of Ambroise Paré, Guillemeau respects Nature, and strives to work with it rather than to dominate it.
EDITION CITED
The translations are based on the 1620 edition (On Pregnancy and the Delivery of Women), to allow the inclusion of revisions and additions made by Charles Guillemeau to the original text of his father, Jacques Guillemeau.
I have regularly made a particular change to the punctuation of sentences. Guillemeau favoured the colon followed by a capital letter whereas I have followed modern usage, i.e. a fullstop to mark a change of sentence.
Le chirurgien ordinaire du roi, en fin de carrière, passe en revue de nombreux accouchements, tant normaux qu'exceptionnels (1609)

De l'heureux accouchement des femmes et De la nourriture et gouvernement des enfans, dès le commencement de leur naissance
A Paris. Chez Nicolas Buon, au mont Sainct Hilaire à l'enseigne S. Claude. 1609
Les Œuvres de chirurgie de Jacques Guillemeau (ancien élève
d'Ambroise Paré
, destinées aux jeunes chirurgiens, sont régulièrement réimprimées jusqu'au milieu du XVIIe siècle. Parmi ceux-ci, nous retenons ici les volumes sur la médecine obstétricale et pédiatrique qui ont paru d'abord à part, en 1609, et que son fils Charles Guillemeau – chirurgien qui est ensuite passé au grade de médecin - a revus et augmentés dès 1620. Jacques Guillemeau s'interroge sur une expérience acquise au cours de quarante ans, tant chez les pauvres que les riches. Si, dans la plupart des chapitres, il commence par des propos généraux, il cite souvent un ou plusieurs cas spécifiques soit pour démontrer le bien-fondé des idées courantes, soit pour remettre celles-ci en question. Il parle surtout en tant que chirurgien, nous offrant un aperçu des rapports entre ses confrères et médecins, sages-femmes et apothicaires. D'ailleurs, il est intéressant de noter que d'ores et déjà les médecins (ou parfois les parents de la parturiente) ont tendance à faire appel à tel out tel
chirurgien connu pour l'art d'accoucher
– tels Honoré ou Guillemeau lui-même.
Nous avons recensé une trentaine de 'récits de naissance' chez Guillemeau, chiffre exceptionnel par rapport aux traités d'obstétrique de la plupart de ses contemporains – à l'exception de
Louise Bourgeois
. Quelles qu'aient été les rivalités professionnelles entre ces deux personnages, ils sont intéressés tous les deux par l'apport de l'expérience, et par ce qui distingue telle grossesse, telle naissance de telle autre. Les récits de Guillemeau sont plutôt sobres, car il cherche surtout à instruire ses jeunes collègues, mais à côté de réflexions sérieuses - sur la déontologie professionnelle, par exemple - nous relevons parfois un piment d'humour malicieux. Quant à son approche professionnel, c'est l'appel à la prudence et à la douceur qui le distingue. En tant que disciple d'Ambroise Paré, Guillemeau respecte la nature, cherche à s'y plier plutôt que de s'y imposer brutalement.
L'ETABLISSEMENT DU TEXTE
Afin de rendre compte des ajouts que Charles Guillemeau a apportés au texte d'origine, nous citons le texte dans l'édition de 1620, qui s'intitule De la grossesse et accouchement des femmes. Nous avons modifié un élément de la ponctuation : Guillemeau favorise l'emploi des deux points suivis d'une majuscule pour signaler le début d'une nouvelle phrase. Nous avons suivi l'usage du français contemporain, à savoir un point au lieu des deux points.