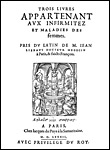 Jean Liebault
The author of several medical compilations records a number of remarkable births (1582)

Three books on the indispositions and illnesses of women. Taken from the Latin of Jean Liebault, physician in Paris, and translated into French.
Printed in Paris, by Jacques Du Puys at the Samaritan. M. D. LXXXII. With royal privilege.
Jean Liebault was the son-in-law of Charles Estienne, and an important figure in adapting Latin medical texts for a wider vernacular readership in sixteenth-century France. He wrote, or rather drew together, several general compendia, including the Three Books on the Indispositions and Illnesses of Women, a work which was an (unacknowledged) free adaptation of a volume published 20 years earlier in Italian by Marinello. Both Marinello and, in turn, Liebault treat not only gynaecological topics (including
sterility
) but also pregnancy and childbirth. Liebault's main concern is to document normal childbirth, but he also adds observations on specific cases drawn from his personal experience. Alongside classical authorities, he includes regular references to Fernel,
Joubert,
Paré
and 'the anatomists' (such as Faloppius), as well as some asides in which he relates his own tales. Although he considers birth to be primarily the concern of midwives – and believes it is the latters' duty to provide better instruction for pregnant women – he enjoys describing some remarkable or even monstrous exceptional cases.
L'auteur de plusieurs compilations médicales raconte quelques naissances remarquables (1582)

Trois livres appartenant aux infirmitez et maladies des femmes. Pris du latin de M. Jean Liebaut docteur medecin à Paris, et faicts François.
A Paris, chez Jacques du Puys à la Samaritaine. M. D. LXXXII. Avec privilege du roy.
Jean Liebault, gendre de Charles Estienne, est un vulgarisateur important de la fin du XVIe siècle. Auteur (ou faudrait-il dire plutôt traducteur ou compilateur ?) de plusieurs recueils en français tirés d'ouvrages latins, avec les Trois Livres appartenant aux infirmitez et maladies des femmes Liébault s'inspire – sans l'avouer – d'un livre italien de Marinello qui a paru vingt ans plus tôt. Comme celui-ci, Liébault s'occupe tant de la gynécologie – et notamment de la
stérilité
– que de la grossesse et de l'accouchement. Bien qu'il se donne pour tâche de décrire des naissances typiques, il ne manque pas d'alimenter ses remarques générales d'observations tirées de sa propre expérience. A côté des auteurs anciens, il cite volontiers Fernel,
Joubert
,
Paré
et "les anatomistes" (tel Faloppe), mais tout en se permettant parfois une parenthèse pour développer tel ou tel récit particulier. S'il estime que la naissance est surtout l'affaire des sages-femmes – c'est à elles de fournir de plus amples renseignements aux futures mères, selon lui - il ne répugne pas pour autant à décrire quelques cas remarquables, voire monstrueux.